Are You

Eating Right?

Feeling Tired?

Concerned About Your Diet?

Sensitive to Certain Foods?

Looking For More Organic Food Options?

Too Busy To Cook?
Being busy with life often means some of the most important things (like proper nutrition) gets put on the back burner. It's tough to make healthy food choices, especially when you don't have time to cook, or you have to cook for picky kids. Most of us end up eating a quick snack or fast food item just because we're hungry and tired!
When we don't choose foods that are organically sourced, fresh, and properly freeze dried or cooked, we end up not filling our tanks. Oh, you'll feel FULL and often satisfy your cravings, but your body (that is to say, the cells inside your body that do all the work) will still be starving. Look at the meal on the right. It's a typical fast food, summer BBQ kind of meal. If you're trying to get healthy, though, it's not a good choice for a once-a-day, or even once-a-week, meal.
PLUS
When you eat this kind of meal, you're usually consuming preservatives, fillers and even glyphosate, a cancer-causing pesticide found in conventional foods. All of these things have negative consequences on the cells in the body.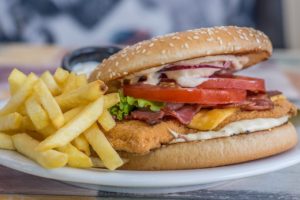 1
Fried food has bad-for-you trans fats
2
White, bleached flour is high glycemic and full of preservatives
3
Extra meats and cheese add to fat content without adding to your NUTRITION
4
French fries are fried (duh), so full of fat and salt. Empty calories!